Thirty is the New 30
Well ladies and gentlemen, I did it. I crossed over from my twenties to my thirties with blazing glory. Most of the people in my circle know I've been planning my 30th birthday celebration for the past 3 months. With the help of some great promoter friends (Thanks MITCH and MIKE), my beautiful crew and countless others I was able to have one of the best parties I've had or have gone to in years.
Thursday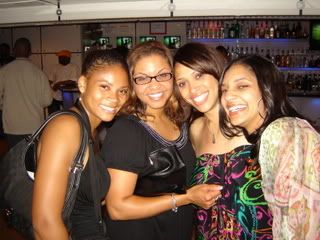 The celebration started off at PURE Nite club on U Street. Two of my friends from Undergrad at Clark Atlanta University, Angel and Robyn, flew in for the weekend, and of course the infamous Tab was there! We had an entire section to ourselves compliments of Mike Walker and WeRunDc.com. It was so great in there that night because of the live go go band that put a go go twist to old and new songs. You know how they do ;) The crew was small that night with a group of 4 females and one guy but we made enough noise to sound like a high school marching band.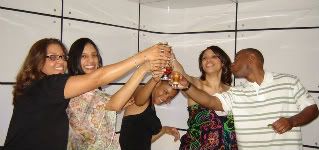 I literally crossed over to 30 pouring a shot of Cuervo down my throat. We danced, Angel walked it out, we people watched, I talked to a dude in a full length skirt while my crew sang "you are the last dragon" in the back ground.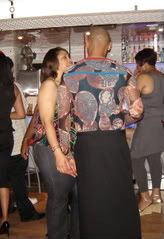 Walking back to the car I broke out into a private birthday dance while Robyn posed for the camera on a bike parked outside ….ha!
I'll let her tell her own story in a comment on how she felt the next day.
Friday
I was so lucky to get an invite to have lunch with Robyn and her uncle at The Towers, a country club located in Tyson's corner. This is the type of spot you go to and you have to act like you have been somewhere before. You have to know which fork to use with which food group. White table cloth and napkins, perfect décor (Glad I wore my LV bag), and a great view.
After regrouping we got showered and dressed for the birthday dinner at Fogo De Chao. The place was packed with late prom goers and families celebrating graduations. After the order of service was explained, green for more red for stop, we found ourselves in marinated meat heaven. Beef, pork, chicken, lamb you name it they had it. A few people always had their cards on green but I won't say any names in order to protect the innocent and glutinous. I tried to taste as much as I could but my stomach was telling me that the pot was full. I still just want one more piece of rib eye steak! My stick partner Danielle handled this event for me and worked out the bill so perfectly that we all gave her a round of applause. I'm so glad that went well because I hate large party dinners and you know why! People tend to forget what they ordered and that tax and gratuity exist in this country. We all met back up at my house for some of Tab's homemade Sangria, and of course…SHOTS!!!!
Saturday
This was the busiest day yet. Unfortunately Robyn had to go back to the airport so we got her there safely. Then it was time for 10 ladies to band together to see Sex and the City. What a great movie and the fashion was top notch all the way. The only thing I didn't like was the fact that Jennifer Hudson's character got her bags on Bag, Borrow or Steal. I could have thrown popcorn at the screen yuck! Samantha had the illest purse game in my opinion particularly the white quilted Chanel tote! *drooling* After a movie like that it's only right to go to the mall and that's what we did. I didn't buy a bag this time but I damn sure molested one or two!

While getting dressed for the big party we experienced a pretty rough but brief thunderstorm. It was 100 degrees that day and a storm is inevitable. It would have had to be a tsunami to stop us from partying. After some minor glitches in the matrix, I found myself walking up onto the third floor at Café Asia being greeted by warm smiles from familiar faces, beautiful decorations and flashing lights. The section given to me was so perfect; we had our own bar and plenty of room. It was as if I had a private club upstairs. We were entertained by Nikki G (Beyonce's drummer) and another marching band.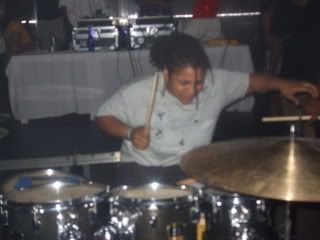 I know it sounds weird for the club but trust me it was and sounded great. A party isn't a party if DJ Alizay isn't spinning and spin he did and dance we did. Well at least the pictures say I danced. I had a beautiful cake made for me and designed by a good friend of mine and I'm getting so many requests for a slice days later!

I don't remember too much of the night after about 1 a.m. but here are some of the things that I heard about myself:

I heard that I tried to cut the middle of my beautiful Damier Speedy cake.
I heard that I am a hugging drunk.
I heard that I am capable of cussing and being unruly. (Sorry Charlie)
I heard that I can cut and serve cake very well after several patron shots.
I heard I take flirting to a whole new level.
I apparently tell blatant lies.
I heard that I am an excellent negotiator.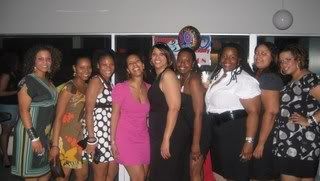 Overall what a party. WHAT A PARTY. I couldn't have asked for anything more. Folks made huge sacrifices to spend those 1-3 days with me. Flying in from out of town, driving up and down, spending money hanging out with me, the gentlemen making sure all the ladies were safe after the club, the gifts, and the hugs the love. I couldn't have asked for more. Sunday morning I cried happy tears. I couldn't believe how many people showed up to support me. I even had a friend limp her way into the club with me ace bandage and all. Folks that I only knew from a few emails and a message board showed up to show see me into my thirties. I felt and feel great. I don't like that I don't remember so much about the night but hey what can you do; not remembering means I did something right! I've said it before but I just can't thank people enough for the cards, the gifts, the champagne, the quality time and just a great overall weekend. This will be one of the moments in time that I will think back to when I hit those low moments. I have over 200 pictures that will remind me I am loved.


Because of all the gaps in my memory, I'm relying on all of those who were there and have their own memories to fill up the comment section with just that! I'm sure we have some good stories to share (and some not so good maybe?) If one of the stories involves me and nudity let's leave that out :)

Goodnight….