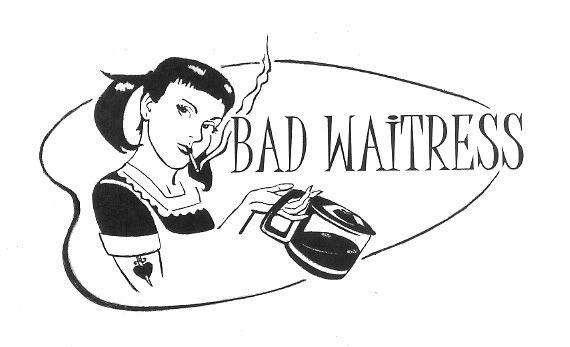 I don't even know where to begin. I was so traumatized by today's events that I had to share them even though in no way possible can I relate this to the world of the hand bag. Today my twin from another island and I made a last minute decision to hit up the local Outback. The decision was made mostly because boys are dumb but that is another story. So we threw on some sweats and met up for some good old Kookaburra wings.
First off that tried to sit us next to a half table with some little kids but I fixed that real fast. Finally we were seated in a decent area of the restaurant. After about 15 minutes, long enough for us to decide completely what we wanted, our waitress came over. She was a medium sized black girl with a curly weave and a very pretty face. She was also clearly a former resident of St Elizabeth's (DC people know what I mean). After she says hello and I say hello back, she says "I was about to be mean to you". I gave her the "people's eyebrow" like huh?
She begins to tell me how I look like this "girl she can't stand". I'm sure my face was contorted because Island Twin's eyes got big. So then she got really comfortable with me. Home girl sat down next to me like she was my first cousin. I'm sure the look on my face was priceless. She said "oh am I invading your privacy, I like to treat my customers like family". I told her "NO" but that this was all very weird to me. Island twin was doing all she could to avoid looking at me as she texted away. So she then begins to tell me that she isn't trying to push up on me so I shouldn't feel uncomfortable and she has two kids. Young…por favor.
We made 3 attempts to order our food as she interjected with how I looked so much like this girl she disliked. We finally got a word in edgewise and were able to order. In the meantime we watched as she sat down in booths next to unsuspecting customers forcing her unconventional table waiting methods on them. People have a thing with personal space and privacy and shouldn't have to answer questions like "so why are you at Outback at 9:00 at night" from their waitress!
We realized that our complimentary bread hadn't come out. Island girl asked about it and she stated "oh it aint ready". Oh okay. Thanks. Finally our appetizers came out; too bad we could only look at it because we didn't have plates or silverware. When we made our waitress aware of this she replied "Damn they aint give yall no forks or nothing?"
Finally we were able to eat. I peered at the table but didn't see the baked potato or broccoli that I ordered. Maybe it "wasn't ready yet". I don't know if it was fortunate or unfortunate but our happy go inappropriate waitress rarely came back to check on us. We didn't get one refill on our drinks. I didn't get a chance to check on our missing items. I'm assuming that my face and body language made her feel intimidated and she realized that her waitressing style was less than appropriate in my eyes. Oh well I was wrong. Just when I thought we had escaped the madness she comes up from behind me and says, in a loud and obnoxious voice, "Wooooooowww yall demolished those appetizers". I looked at her like she had 4 heads. Now I see why Island twin kept telling me it was the Lord's Day because that was the only thing that kept my head from spinning. I loved that I didn't have to say a word. Her tone changed and got real humble. She asked if we needed anything else and I told her just the check. Young..por favor.
It took about 20 minutes for us to get our check straight. Of course the missing potato and broccoli never surfaced but somehow appeared on the check. Oh for real? So you mean to tell me that you are going to be a relaxed, inappropriate, overly friendly and inefficient all at once? When I told her that the check needed to be corrected because the additional items never came out, she said, "Oh you don't want them no more". This broad…
See I'm all for a friendly server, but there are boundaries that must be respected. Most people don't want a stranger sitting next to them, much less one that isn't supposed to be. I don't want your first words to me to be that I look like someone you can't stand, hey don't play with me like that. No seriously. I'm sorry that it took her so long to detect my tone even after I told her this was very weird to me, but she definitely knew that I wasn't pleased when she saw that empty space where a tip should have been.
I was so angry I think I should the whole restaurant bouncing my leg up and down. She avoided eye contact with me the rest of the night. When Island twin and I left, she was sitting in a booth chilling with another server. It must have been a great night for her. Now let me see if I can tie this into purses….umm I should have smacked her with one.
Disgruntled Bag Lady *rolling eyes*
*UPDATE*
Island girl wrote one HELL of a letter to Outback and sent it Via email. I just got off the phone with the manager who apologized profusely and promised to send us two certificates. He also assured *ding* us that the "waitress" has been taken care of. CONSUMERS RULE!!!