And I'm not talking about Miami Vice. I'm talking about a Vice. Something you do that you shouldnt do. It's a fancy word for a sin or something immoral. It's something you do that isnt great but it makes you feel great. I'm sure your wheels are spinning now. Wikipedia gives numerous examples of a "vice" including but not limited to:

absent-mindedness
indulgence
perversion
poor judgment
prejudice
presumptuousness
pride
purposelessness
selfishness
sensuality
tactlessness
unforgiveness
unkindness
vanity
violence
weakness
addiction
aggression
alcoholism
animosity
bigotry
bitterness
drunkenness
excess
greed
ignorance
indecision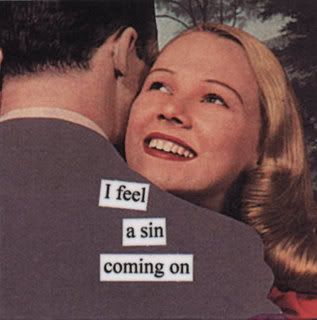 The title of the blog is "HOLD MY PURSE" so you know what my major VICE is. Let's choose EXCESS. I tend to over do everything, from "social drinking" to shopping, party planning, I just go way over board. It would be cool if I had that Victoria Beckam money! I make big huge plans in my head before I consult my "sexy spread sheet" (c) Island Girl. I think I should get points back for spending excessive money on other people maybe that cancels out my sin!
Another vice of mine is indecision. Asking me to make a solid and concrete decision is like telling me to choose between a Dior Gaucho
and a Marc Jacobs Hudson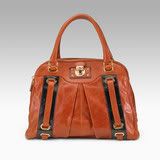 I just can't do it. I start feeling faint and sweating and my hands start shaking. I need someone to guide me or I'm at a lost. I can make plenty decisions for other people but when it comes to me it's almost as bad as a phobia!
I am extemely absent minded. I do things that can put me and the beagle in danger like leaving the patio door open, leaving the oven on all night and wondering why my air conditioning isnt working. One time at my dad's house I left the laundry room sink running and went upstair to go to sleep. I heard the dogs barking but I ignored it. My niece told my father that something was wrong with the dogs and they were all wet. Poor Dallas was in cage full of water up to his knees (if he had them). My father was so mad he didnt say a word to me. I just have alot going on in my head I guess I better get things organized!
Saturday night I'm going to have about 10-15 vices in no particular order. I'll be at Cafe Asia for First Saturdays doing things that are immoral and illegal in 40 states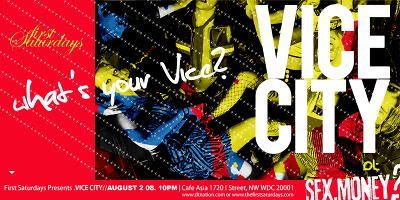 . But it will be fun! Almost as fun as riding on the roller coaster in NY NY hotel in Vegas after about 3 strawberry margaritas. The list did say alchoholism was a vice right? I'm telling you, you have not lived until you are on a roller coaster tipsy!
What is your Vice? If I was partying back in the day with Jesus Christ he would turn my wine back into water. So tell me what yours are I'm all ears...
Anyway, meet me at Cafe Asia on Saturday night and let's compare Vices ...drinks on you :)
http://www.thefirstsaturdays.com/
P.S. One last thing. I have such a weakness for men with nice arms, a fresh hair cut, nice eyelashes and sexy lips. I mean he can look like Forrest Whitaker but if has those 3 I can get over that lazy eye!
See you Sat!
BL29 aka the 08 Jayne Kennedy!