*poppin my purse strap*
First of all I would like to thank the Academy. I would like to thank all of the starving bloggers out there, if it werent for you I wouldnt be a starving blogger myself. I would like to thank Metro Man
iMetro
who so graciously bestowed upon me this nomination, without you and your blog my monitor would be free of French Vanilla Cafe' coffee in the morning. I particularly remember the big ankled lady on metro with the pillsbury legs, and the watermelon section of Giant. Now that I have accepted this nomination, it is my duty and privilege to pass it along to 7 other noteworthy bloggers. Somebody hold my purse while I do this....
There is a set of rules that come with this award. They are as follows...
1 - When you receive the prize you must write a post showing it, together with the name of who has given it to you and link them back.
2 - Choose a minimum of 7 blogs that you find brilliant in their content or design.
*UPDATE* Im not doing 7 because if I did that many i'd be lying *flips hair*
3 - Show their names and links and leave them a comment informing they were prized with 'Honest Weblog'.
4 - Show a picture of those who awarded you and those you give the prize (optional).
*NOTE* You can never tell a person like me that I have the OPTION to do or not to do something. *evil grin*
5 - And then we pass it on!
*drum rolls and click clacks and stuff*
1. The first blog I've ever really read is from none other than Leon
ListenToLeon
. Leon aka "My Tuesday Night Date" is a super cool funny guy. He talks alot. ALOT. Like more than alot. More that me even. And FAST. But while he is talking I like to run my hands through his curls. Okay sorry let me keep this professional. The dude is completely insane. Who thinks of this stuff? My favorite, hands down is the Billy Dee Williams blog. Too bad he is a Skins fan. We could have been something Leon.....
2. COWBOYS BABY! Youre the best G!
Chocolate City
And I just so happen to be the one to have snapped that handy dandy photo of you :-) Let's just hope the story behind it stays under wraps like a mummy (pinky swear) Wait can guys pinky swear? LOL
3. Ah yes. Proof that GIRLS are better than BOYS. A more avid female sports fan than myself. Recognizer of "who plays too much" and a sneaker QUEEN. What a pleasant person to have recently become so aquainted with, and even the beagle loves her. Please check her blog out..She's T to the S! YES! TRACIE!
Just What I was Feeling
4. COUNTERNOMINATION: Man look, I have had folks hollering, screaming, spitting and choking laughing at this blog. Metroman and I chat on yahoo and it's usually like front row at "the Def Jam". I was like dude if you dont share this with other folks. I love his sense of humor its sick and twisted and I can totally relate. I just hope that no one sees themselves in a starring role on his blog! I had no choice but to counternominate because I check his blog daily and vice versa. He almost inspired me to take a video of this gay man on the treadmill walking FEROCIOUSLY..I mean how do you make a long drawn out sweaty workout look like you are strolling down the cat walk! SNAP FOR THE KIDS! But hey, gay dudes will fight you. So I changed my mind. Anyway, Shout out to you L!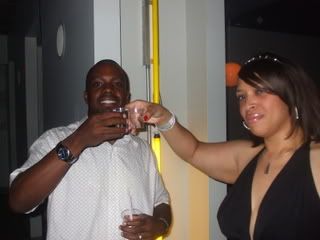 5. I have named four of my blogger friends who I think have great, informative and knee slapping blogs. But there is one blog that I read that is commercial. I was up til 3:45 am with DenyseG HOLLERING..no literally..HOLLERING reading
BOSSIP
. It is not so much the picture, but the commentary. Jay Z my folks but they consistently call him Camel. They call Ashanti "Thickikins" ...I dont even look at pictures as much as I read the commentary. I feel like in some instances DenyseG might be leading a double life on me and writing for them. I need to get a private investigator on her! Anyway, check it out when you have the time. They say what we think!