In less than 48 hours, the United States will, for lack of a better phrase lose its entire mind. Every retail store from Best buy to Big Lots will open at 5 a.m. boasting of the best deals and sales. Retailers will convince you that if you don't shop now you may never see this same deal for the rest of your life, well maybe not until the next Black Friday. There are however some rules, regulations and tricks to the trade.
I traditionally canvas the Black Friday terrain looking for weak sellers willing to get up off of flat screens and other items for next to nothing. I have perfected the art of Black Friday shopping and simultaneously unmasked its deepest and darkest secrets.
1. Parking: The worst part of Black Friday is the parking. The problem is that everyone is trying to get to the front of the store. It's not happening. Park in the first available spot you see and walk. You probably need to walk after that huge thanksgiving meal right? By the time you walk you will have gotten into the store faster than the person driving around for 30 minutes looking for "the good spot". Now fighting over a parking spot can make for an entertaining spectacle of which I am not opposed to watching!
2. Nothing is too good to be true: Follow me as I explain this better. There is a Microwave in Target for $19.99 until 11 a.m. You feel that this price is probably not accurate and you leave the microwave there. Cindy Lou Hu comes up behind you and takes the last $19.99 GE Microwave. If you even think the price is accurate guard the item with your life.
3. Beware of regular priced items: Often times regular priced items are mixed, stirred, chopped and screwed into the piles of sale items. This results in cash register shock: when you get to the register and you have calculated items in your head, yet the total is about $50 bucks higher? Check your tags!
4. Resist useless impulses: DVDs are great and I love watching movies,but by no means do I need 6 copies of the movie CLUE just because they are $.99 cents. My cousin got into it with a lady one year who did this. She just ran in and grabbed a handful of the DVDs and put them in her cart. Most were of the same movie. After a small scuffle she relinquished some of the items.
5. The stores are not safe for children. I am usually sensitive to people with children but on this particular day no way. Let them stay at home one of the relatives that are too full from the day before to move. Last year I saw a couple whispering and sneaking toys into the cart while the kids were there running in and out of the aisles getting in MY way. You guys can take turn watching the kids. Let them sleep in and watch cartoons its murder on a child to be out shopping at 6:00 am.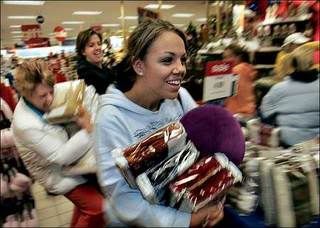 6. Map out your territory: The sale paper comes in on Wednesday and Thursday morning. Go through it and map out what you need or want and from which stores. Don't go blind shopping; you will end up with a trunk full of nonsense. People will hate your gifts. Do you really need a super sized remote control with extra large buttons? So what its $1.99. How many red sweaters do you currently own? Four or five? You don't need three more. Try to focus on things that are less attainable or affordable outside of the sale period.
7. The best deals are going to be on electronics. Most of the items you see will be on sale until they get rid of it, but electronics are rare and used to draw you into the store. TV's, DVD players, Blue Ray players, computers etc. Come strapped. No seriously, you have to be prepared for battle. I do not recommend going alone for electronics shopping. Take a wing man. Two would be even better. You need to surround the perimeter of the TV and thwart off the enemy forces. Some folks will use their kids to distract you. If you see a child with his hand on a box containing a 42" T.V., who appears to be looking around for his or her parent you can do one or two things. You can tell them that their mother is looking for them in the toy section, or firmly tell the kid to move or you will murder Santa.
8. For the most part, things that are on sale on Friday are pretty much on sale now. Friday they will get marked down more, but the pickings are slim. If you are a size that is not common or hard to find and what you want is on sale now in your size don't wait! When I go "sweater shopping" which is a task because I only like thin sweaters, all that is left on Black Friday is small and extra small. There will be 800 sweaters in that size on the rack. Maybe I can sew two of them together or something.
9. Check stores for non-traditional items. For instance, last year Home Depot was selling a flat screen TV for $400. When is the last time anyone has bought a TV from Home Depot? Well it worked! You got your T.V. and you also got a backhoe, an electric hedge trimmer and a bag of potting soil, none of which were on sale. Stores that specialize in electronics may have a bigger selection but not necessarily the best deal.
10. Don't forget the ONLINE SHOPPING EXPERIENCE! Hey, you can get some of the same deals if not better right from the comfort of your own home. Some of my friends and I have already decided that we will be doing this. Now I may get up early, but I won't be out of my slippers. All I need is a cup of French Vanilla Café', a leftover ham biscuit and my laptop. As a matter of fact fill your shopping carts up the night before and see what the discounts look like at 6:00 A.M. Online shopping may even help you focus and budget more. It may keep you for buying that stupid dancing Santa Claus.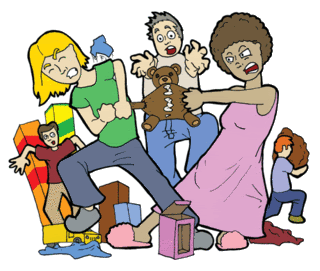 11. Keep your Money and your Purchases safe: There will probably be just as many people out there looking forward to you "slippin" as there are shoppers. I know this is going to be inconvenient, but if you purchase anything of value, do not leave it in the car. Take it home or to grandma's house, anywhere but the car. If you have a newer car without a key hole on the trunk you should be okay. If you are carrying a purse keep it tight to your body or keep your money in your pockets! I have seen folk so distracted by a sale item on a high shelf that they leave their purse in their basket unattended and wide open. Carry check cards instead of cash, don't end up shaking a bell outside for donations like Salvation Army Santa!
Everyone please be safe and enjoy yourself out there amongst the masses on Black Friday. Be smart, have fun and stay strapped. It will be interesting to see how this Black Friday pans out in comparison to others with this recession we have going on. I wonder if the gas prices going down were a way to have us spend more money in the stores. It's working for me so far!
BagLady