I don't want you to think that because my Nightlife tab has been deprived so long that I haven't been out and about in the mean streets of DC, tis not the case my loves. I have just been a bag of lazy bones and not blogging about my experiences. I mean what better way to view bags and high fashion than in its natural environment! I promise I will no longer leave you wondering how I rock ;)
Friday night I met up with a gang of outstanding divas at
Ozios
Now look, as much as I love to flip my hair you know I am not a fan of any establishment that may contaminate it, but Ozios gets a pass, especially because of the "smoke free" floors. I made sure I rolled my eyes really hard at the men outside pretending that they weren't smoking their very first cigar. Humph…put that down when I walk through!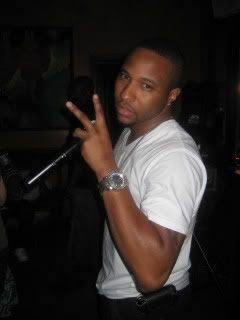 So anyway…late as ever and it was not my fault, I won't mention whose fault it was Luckily my host for the night Rashad
Ra Ra the Party Starter
knows that I am typically late fashionably or not and for such I was afforded a pass for the night. This doesn't not happen often *raised eyebrow*.
There are so many levels to Ozios I didn't know which floor to tell folks I was on. Just find me in this maze of a building….I can't. I did however find my way to the bar .
Okay cue The Dream sequence
(Sorry this pic cracks me up) back in the day I used to go to Ozios every Wednesday Night for Happy hour with IDC. I would get so inebriated off of the $5 Martinis and by 10 pm I was done for, I couldn't even pretend to be cute. First time I ever tried calamari was with Rashad at Ozios. When that Happy Hour stopped a piece of me died…
Back to reality, so I was on some floor where my shot buddy DJ Supa Scotty was spinnin. This is also where mayhem began. I got the great idea to buy rounds of shots, Hennessey no less…who did I think I was? By the time I made it to the "exclusive" *chuckle* 3rd floor I was already swag surfin….

I could tell when I stepped in I was gonna have a good time. Old and familiar faces, new faces, a birthday cheerleader and no one was afraid to dance. We swag surfed, two-stepped, moon walked, did the roger rabbit; beat my feat (DC Stand up!) and all that. I would post pictures of what I looked like, but you would wonder if I was related to Whitney Houston as profusely as I was sweating!
I know I was having a good time if I let my purse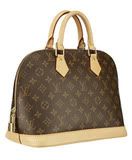 out of my sight for more than a few minutes, but I knew it was under a watchful eye. This party was not for those trying to be cute little wall decorations. You either danced or got off the floor! After a while it started looking like a "Doing the Butt" video people everywhere having the time of their life.
By nights end, I was like look, thank God for flat sandals! It was a long walk to my car but at least I sobered up when I saw the beagle sized rat run across M street. Gotta Love DC! Now where will I be next….
Bag Lady
TWIT ME BABY!
http://twitter.com/holdmypurse
http://twitter.com/FoxxyBagLady
P.S. and way off topic..WAY WAY off...who does this belong to?