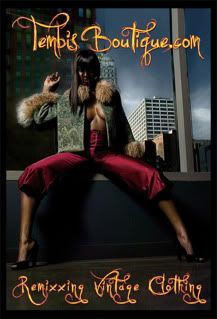 I am excited and proud to be doing this spotlight. I have only been after the owner of this boutique for a year to feature her, and I finally tracked her down to get the low down.
(Tayo and KD Aubert)
Tembis's Boutique
Click Here
is an online/storefront shop owned by Tayo Ladipo. I first met Tayo in 1996 while we were both freshwomen at Clark Atlanta University (One DISTINGUISHED University). We have been thick as thieves ever since. I used to tease Tayo about her "qwirky" style of dress. She would often come to my dorm room with mix matched socks, pants and shirt..and let me not forget the pink hair, green hair and my favorite the blue hair!
So now that you know the past, let me show you what my Tayo is doing now...in her own words in a short interview:
What inspired you to create Tembis Boutique?
My grandmom and my mom; they both were women who expressed their feelings through clothing. Watching them as a young child, they taught me how to mix and match designer pieces with vintage pieces. More than anything they were both lovers of clothing from the 1950's and 1920's. As a young girl going to thrift stores with them was such a bonding joy for me, we would be eagerly get home to see the unique goodies we had found. As I got older my thirst for vintage clothing was in overload, and so was everyones else's. I got so may compliments on my clothes, I started having trunk shows, soon after that Tembisboutique.com was created.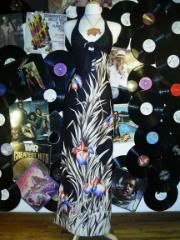 (Sexy Black-This 1970's sundress is so full of feminine personality. I adore the way the flowers are cascading upward on the dress in a chaotic type of way. This dress encompasses the sensuality of a modern day Vintage Rockstar)
What is the goal of Tembis Boutique?
As true fashion addict Tembi has an incredible love for unique styles, trends, and eras which has allowed her to provide an array of one of a kind vintage pieces. Tembis Boutique features Vintage designers such as Pucci, Byer, Jill Jr., Saks Fifth Ave., Neiman Marcus, Alfred Shaheen, Chanel, and Gucci as well as other unique designers and labels dating back as far as the roaring 20's to the punk 80's.
With an insatiable love for vintage clothing and one of a kind unique pieces Tembis Boutique desires to create a style that envelopes individualism with eye catching timeless pieces. Tembis Boutique personally selects and many times reconstructs (With the help of Lady Barn) each piece providing every Rockstar Vintage Vixen her own sense of timeless style and eclectic pieces. Check the inventory weekly for gorgeous new items. Remixxing Vintage Clothing For The Fashion Fiend In You!!!!
(For My Haters Pantsuit - This black pleated 1978 1 piece pant jumpsuit is HOT 2 DEF!!!!! The deep V neck lace front is tremendous for the cleavage on any woman, but the pant legs are to die for. They are wide elephant bell bottoms w/ a fringe hem, and a SICK flow when walking in them. This pantsuit is the BUSINESS w/ a pair of 4inch YSL heels..)
What type of woman/man is targeted?
Tembisboutique.com caters to the vanity of the fearless fashionista that is in every woman!!!!!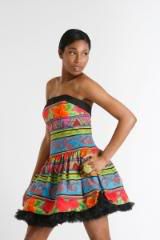 (Carnival-This dress is so darling!!!! The colors are so fun and full of life. This dress is such a favorite, I love the innocent sex appeal it gives off!!!! And it looks great w/ any color shoe, especially an ankle boot!!!!)
Where would you like to see Tembis Boutique in 5 years?
Five years from now, you can expect the designer line CASSIE. I am quite particular about the way I would like for this line to look and feel, so I am taking my time with it. I also plan to relocate the showroom to Chicago Magnificent Mile, and continue doing fashion shows, photoshoots, and any and everything having to do with FASHION, my particular drug of choice!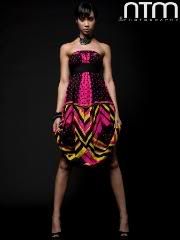 (Psychedelic-The dress is so 3008 w/ a vintage appeal. The picture says it all about this dress. I love the psychedlic 1980 colors and shapes that just pop out of the picture. The dress is a banger!!!!! Totally made for fashionistas of the world)
And there you have it! Now its time to shop...I'm sure we are all tired of looking like cookie cutter divas. Here is the website again
TEMBIS BOUTIQUE
LOVE YOU TAYO! KEEP DOING BIG THINGS!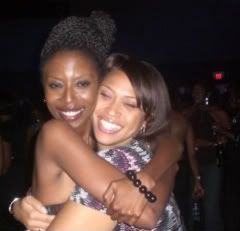 BagLady <3