What in the world! My life has been a down, up and sideways spiral lately. But I promise to give you more, especially since Fall is upon us. If you live in DC we have skipped slam over Fall and been catapulted into the belly of the wintry beast!
So anyway...I can't figure out what the "look" for this fall should be in my humble opinion. I'm trying to get out of my basic black mode for fall and winter. I need to liven up my LIFE! But once you go black....
So check it. Remember if you follow me on Twitter I mentioned TEXTURES and PRINTS and the like as the must haves for this Fall/Winter. Well look at what we have here: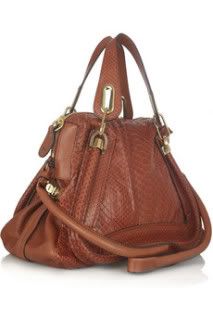 The Bag Stands Alone....THE BAG STANDS ALONE!
Chloe' Python Paraty
Net-A-Porter
If you have, oh let's see...$3800 bucks to kick around then buy one for yourself and for me :-) I chose this bag because it gives you the top handle or shoulder bag option. I"m a top handle girl, I got that from BLUSHWHORE and ran with it.
BlushWhore
The bag grabs you by the retina and shakes you into reality. I go for simple, classy and fly. I have to remind some of my readers that me posting bags that cost a bazillion dollars doesnt mean this is what you rock or else. The LOOK is what I'm trying to force into your brain. It's real Mary Kate and Ashley-ish and I love it. So put on some clothes 18 sizes too big and get a starbucks coffee cup and you are IN!
What do you think? If you have any other suggestions or looks I'd love to post them!
BagLady
www.twitter.com/holdmypurse