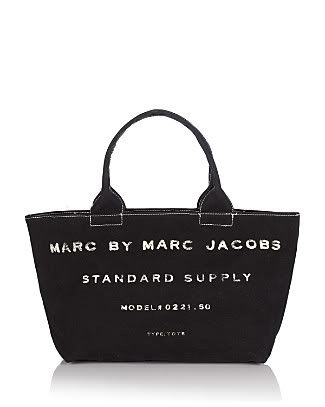 With this tote....
I purchased it after contemplating for a year whether it was worth my money and my arm hang time. I needed something for everyday use, that I can throw therapy materials into, lunch, maybe my laptop etc.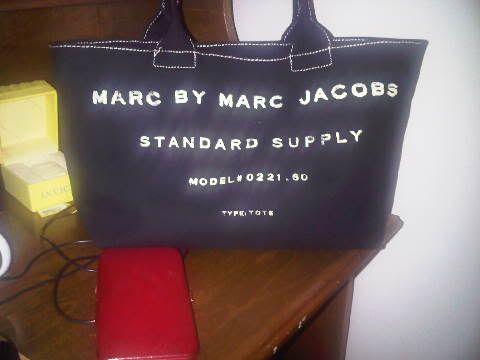 Let me just say I'm just enamored with this bag. It is a canvas tote, not leather, which is something new to me. When I first opened it up, I was initially disappointed about the texture and size. However, I came to realize that I had not fully opened this bag up! Once I did it dropped another 2 inches at the bottom.
The bag has distressed letters that spell out MARC BY MARC JACOBS STANDARD SUPPLY in all caps, with model number and type: Tote on the next lines. On the inside There is a zipper with 2 cell phone pockets.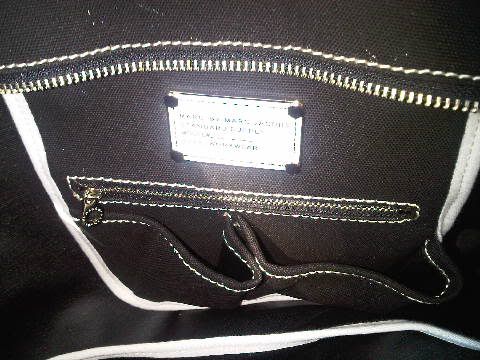 This bag can be used for the gym, shopping, grocery shopping, or travel carry on. I easily put my gym clothes in it with room to spare. Oh, and it DOES zip up, which is a feature I look for. This is one of the reasons that I didn't pursue any of Louis Vuitton's Keep Alls.
The best thing? The most you will pay for this bag is $148 bucks. I snagged it on sale a couple of weeks ago from
PIPERLIME
It comes in: Black with White Letters, White with Black Letters, Tan/Brown with Dark Brown Letters, and Turquoise Blue (If you can find it). It also comes in a larger size. I think that would be too much unless you used it as actual luggage.
Well that is my review, and I am very pleased. I love you Marc
BagLady
P.S.
Bloomingdales
Has them on sale now for $111.00 :-) Thank me later ;)